A friend of mine is interested in building a GBZ and thought I would post a Parts/Cost list for anyone else who is interested.
There are a couple of different routes you could take to build your own GBZ. One, is buying a Broken gameboy and follow Wermys guides over at SudoMod.com but im going to go into detail on building a GBZ without a doner gameboy. (Please dont destory any Working Gameboys).
I have been using my GBZ alot on a daily basis and found I still have some issues with USB/Audio/WiFi. All the issues point to the USB hub and im not sure if its an earthing issue or maybe just a power issue . Thats why I would recommend Helders new all in one board because it cuts out all the extra components/cables meaning you wont have earthing issues .
Button PCB

These boards look very impressive and im tempted to rebuild my GBZ with one of these boards. These boards will cut out alot of extra compoments and save alot of space within your shell.
The Board has the following built in:
1. X&Y Button Drill template
2. PWM Audio Filter
3. Headphone/Speaker Amp
4. Atmega32U4 MCU to handle controls and Analog Stick
5. USB Hub (3 free ports,1 is connected to atmega32U4)
You can even add a Analog Stick to your build if you were thinking about it.
These boards will cost you $35 plus shipping. If your interested you can buy from this page.
The Shell

There are so many aftermarket shells for sale on the web, If you look hard enough you can find all sorts of colours. Prices can also vary from £8 to £20. When buying a shell make sure there are screws included. Ebay is a good source for Standard GREY shell but if you are after something abit more colourful then check out deadpanrobot.co.uk in the UK.
Buttons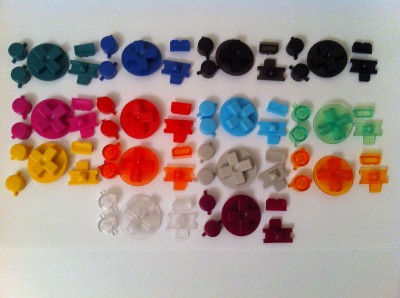 There is also loads of aftermarket buttons and again available in all different colours. You will need to buy two sets due to them only including two A/B/Y/X buttons. You will also need to get the silicone pads which go under each button. You are looking at about £3 per set of buttons and around £2 for a set of Silicone pads. The button sets normally include the power switch. Thats a total of £10 for all buttons. You can Either buy these from eBay/Aliexpress or deadpanrobot.co.uk
You will need to keep in mind if you want standard colour buttons that some people selling shells on eBay actually include 1 set of buttons.
I chopped up a NES controller for the pads and buttons and also had a doner GB for the other buttons.
Screen
Loads of different LCDs have been used in peoples builds and the favourite has been the BW 3.5 Composite Display, the only problem with this display is that there seems to be atleast 7 different variety's of this driver board and it is pot luck which variant of screen you will get. Everyone over at Sudomod has tried to include the details on all the different variant. All the details are available on Sudomods Wiki Page
I would recommend variant 7 which is available on Amazon with Prime Delivery.
Power Supply


Adafruit Powerboost 1000C is a great device which includes loads of options for all your power needs on any portable project. This makes it the perfect power supply for this project. There are two Versions of the Powerboost 1000 and make sure you buy the 1000C, the difference between the basic and the charger is that you can still play while attached to the wall via the charge cable. There is also a 500 series but wouldn't recommend them for this project. You can currently buy the powerboost 1000C from ModMyPi for £14.99 which is cheaper than what I paid.
The battery can be one of the hardest items to buy because your not sure what size to get as you have to make sure it fits nicely inside the GB shell, they can also be hard to find for sale without spending alot of money on the item and shipping. In the UK they have to be sent by special delivery with a certain couriers due to the contents of the package being a LiPo battery. I used a 2500mAH battery which is bought from eBay being sold from China. The battery I bought is available from eBay for £7.99.
Screen Surround


There is only one place to go when it comes to screen surrounds and that is to RetroFresh.uk they have a custom screen surround service where you can choose from colours to font, style and text that you want to be printed on the surround. You can see minewhich is orange on my GBZ. They also do a standard grey ones to match the original gameboy colour scheme. These surrounds start from £7 but you wont be disappointed, the quailty is amazing on these things.
Game Cartridge & Label
You will also want to go to RetroFresh.uk to get your cartridge label, again these are printed on high quailty labels and look great when stuck on the cartridge.
When it comes to buying the cartridge it depends on what you plan to use it for. Mine is just used as a cover to hide the battery. But if you are following wermy guide and want to put the SD card adapter inside the cartridge you will want to either buy a cheap game off ebay and solder the SD adapter to that board or buy one of the custom boards available on sudomod. You can also buy blank cartridge shells cheaply from china.
Power Switch
This is the recommended power switch that is listed in the sudomod wiki and is really cheap for 5 of them its £0.77.
Headphone Port
Again this is the recommend headphone port, which is also very cheap. You have to buy 25 of them but they only cost £1.47.
Speaker
You are after an small 8 ohm speaker. You can find cheap replacement DMG-01 speakers on ebay for £2.99
L and R Buttons
9.5mm Momentary Tactile switches are used for the L and R buttons and these will be located within the two middle screw holes on the GBZ shell.
Micro B USB Breakout Board
This USb board is used as the charging Socket for the GBZ, there are a couple of different ones out there but can be eBay.
Potentiometer Volume Wheel
I have seen people use these potentiometer volume wheels which are very cheap and should do the job.
Raspberry Pi
This project used a Raspberry Pi Zero but some people havemanaged to squeese a Normall Raspberry Pi 2 or 3 inside the case. Pi start from £4 plus postage.
SD Card
I recommend using atleast a 32GB micro SD card for storing all your roms on. Make sure its a class 10 card.
Misc
There are also a couple of other little compoments which will be needed and sourcing them might be hard, first one is the button wells which you can cut from any nintendo controller or now there is also 3d printed button wells available on Sudomod forum.
Another 3D printed component that could be used is the top screw mounts for the shell. You can either use the Wemry guide to make one or there are 3D printed ones which are available on the sudomod forum.
You will also need a decent amount of wire. Some people take the wires out of old ethernet cables.
 Part
 Cost
 Link
Notes
 Button PCB
£26.85 + Postage
 Link
 Helder Sudomod
 Shell
 £10 + Postage
 Link
 DeadRobot
Buttons
 £10 + Postage
 Link
 DeadRobot
3.5″ LCD
 

£13.96

 Link
 Amazon
Power Supply
 £14.99 + Postage
 Link
 ModMyPi
2500mAH Battery
 £7.99
 Link
Ebay
 Screen Surround
 £7 + Postage
 Link
 RetroFresh.uk
 Used Game
 £5
 Ebay
Cartridge Label
£1
 Link
RetroFresh.uk
Power Switch
£0.77
Link
BangGood.com
Head Phone Port
£1.47
Link
BangGood.com
Speaker
£2.99
Link
Ebay
9.5mm Tactile switches
£0.99
Link
Ebay
Potentiometer Volume Wheel
£1.76
Link
Ebay
Micro B USB Board
£3.99
Link
Ebay
Raspberry Pi Zero
£4 + Postage
32GB micro SD Card
£8.19
Link
Amazon
Total
£120.95 + Postage
These prices are to be used as guide lines and will change depending on what route you take when building your GBZ. I hope my break down on parts will be helpfully. Feel free to ask any questions.
Disclaimer
I dont have any links to any of these companys, Im just listing what i believe is best for a GBZ project.